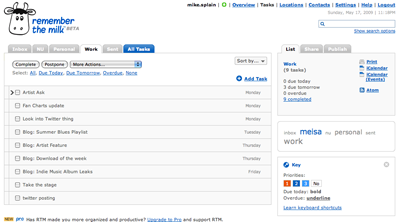 When it comes to staying organized I've tried all sorts of lists and programs and websites. Recently I can across RTM or Remember The Milk. Of course this catchy name made me look further to find a service that does everything I need.
Things I use:
Reminders prior to something being due (to sms, email, and IM)
Posting Todo's from email, sms, iphone, etc.
Organizing multiple lists.
Text to data: e.g. Due: "tomorrow 4pm" becomes "May 19th, 2009 4:00pm"
Offline browsing with google gears.